Humanities Cultural Programme
Bringing the humanities to new audiences

An active programme of public events powered by research from across the Humanities, bringing the world's leading performers and artists to Oxford - both in-person and online.
The Humanities Cultural Programme aims to share research with, and learn from, as wide an audience as possible. It will use the facilities in the Schwarzman Centre to put on exhibitions, theatrical performances, film screenings, and musical performances. Launched ahead of the opening of the building, the Cultural Programme is already connecting humanities research to new audiences. State-of-the-art performance spaces will engage the Oxford community and the public at large, including visitors to Oxford from around the world. Modern amenities and digital capabilities will finally allow for the full breadth of Oxford's unparalleled collections and research in the Humanities to be shared more widely.
Students will be a key focus of the Cultural Programme. They will meet, learn from and collaborate with some of the leading figures in the arts. They will put on plays, exhibitions and performances. They will work with academics across Oxford and the wider world to discuss how the Humanities can contribute to key issues like the environment.
Governance
The Cultural Programme is guided by a Steering Group of leading experts at Oxford University, chaired by Professor Wes Williams, Director of The Oxford Research Centre in the Humanities (TORCH). Its members are:
Professor Daniel Grimley, Deputy Head of the Humanities Division
Professor Suzanne Aspden, Chair of the Board of the Faculty of Music
Dr Mallica Kumbera Landrus, Keeper of Eastern Art at the Ashmolean Museum and Associate Professor for the History of Art in India
Madeline Slaven, Head of Exhibitions at the Bodleian Libraries
Professor Abigail Williams, Professor of English Literature
Professor Phillip Bullock, Professor of Russian Literature and Music
Through the Steering Group, the Cultural Programme brings together representatives from Humanities faculties, museums and libraries in a new collaboration to maximise the impact of Oxford's expertise, collections and partnerships. It works in partnership with cultural organisations in Oxford, and national and international organisations. It will also have an important role in connecting Ethics in AI with cultural discourse and production.
An Advisory Council advises, guides and informs the HCP in its aim to become a globally leading university centre for art, culture and community engagement. Our Council is comprised of leading figures in cultural and community engagement:
Professor Homi K. Bhabha (Anne F. Rothenberg Professor of the Humanities, Harvard University)
Deborah Borda (President and CEO, New York Philharmonic Orchestra)
Professor Judith Buchanan (Master of St Peter's College, Oxford - expert on Early Modern Literature and the Study of Film)
Sir Clive Gillinson CBE (Executive and Artistic Director of Carnegie Hall)
Michael Kaiser (an arts administrator who was President of the John F. Kennedy Center for Performing Arts in Washington, D.C. and led the Royal Opera House)
Lord Neil Mendoza (Provost of Oriel College, Oxford and the UK Government's Commissioner for Cultural Recovery and Renewal)
Nana Oforiatta-Ayim (writer, art historian and filmmaker who wrote The God Child, 2019)
Sir Simon Russell-Beale CBE (actor, author and music historian)
Anoushka Shankar (sitarist with six Grammy® Award nominations)
Amy Stursberg (Executive Director, Stephen A. Schwarzman Foundation and CEO for Schwarzman Scholars Program)
Funded projects
The Steering Group oversees a series of pilot funded projects to facilitate new research and engagement activities. More information on these awards and the recipients is here.
Highlights so far
Online events
While many in-person events and activities have had to be postponed due to the Coronavirus, the HCP launched a programme of digital events to bring culture to people in their homes during this period of isolation. This has included live performances, lectures, dramatic reading from books, and more interactive conversations. Past and future events can be found - and watched - here. These events have allowed us to reach bigger audiences than would have been possible in person: to date, our events have been watched by more than 65,000 viewers in 23 countries. We produced some innovative events - for example, we streamed a live performance by the Villiers Quartet over YouTube even when audiences were not allowed (see video below). Examples like this have inspired us to plan for new possibilities of combining in-person and digital viewing when the Centre has been built.
Humanities Light Night
Oxford's iconic Radcliffe Humanities building was illuminated by a video projection inspired by Oxford research. The video was based on research by Oxford academics Professor Richard Parkinson (Oriental Studies), Professor Jacob Dahl (Oriental Studies) and Professor Armand D'Angour (Classics). Professor D'Angour's discovery of how ancient music would have been played and sounded provided an eery soundtrack to the video. Around 2,500 people attended the event, most of them under 35 years old.
Ashmolean After Hours: Carpe Diem
More than 1,500 people attended a special after hours event at the Ashmolean Museum which coincided with an exhibition on Pompeii. Visitors enjoyed a programme of special Pompeii-related activities from Oxford's researchers and students. Highlights included 3D digital explorations of ancient Rome, a recreation of a lively Pompeian street market from a group of pupils from Cheney School in Oxford, excavation demonstrations, and bite-sized talks from researchers. There were Roman-inspired musical performances in the Atrium, as well as Roman life re-enactors, including Marcus Alpius Peregrinus, Centurion in the 2nd Legion Augusta!
AI and Creativity
How does AI interact with creativity? This was the topic of discussion at a panel featuring mathematician Professor Marcus du Sautoy, composer Emily Howard, and Sarah Ellis, the Royal Shakespeare Company's Director of Digital Development. Rana Mitter, Professor of the History and Politics of Modern China, chaired the panel. They discussed what implications the AI revolution has for creativity and the arts, and what role the arts and humanities can play in ensuring humanity adapts to the digital revolution. A video of the event is here.
Sanskrit
A one-act play in the ancient Sanskrit language was performed at The Queen's College. The play, called The Middle One or Madhyama Vyāyoga, was put on by a small group of Oxford experts in Sanskrit. The aim of the project was to introduce the wider public to Sanskrit, and many local school pupils were in the audience. The play opened with a talk on Sanskrit culture, and there was a live translation during the performance.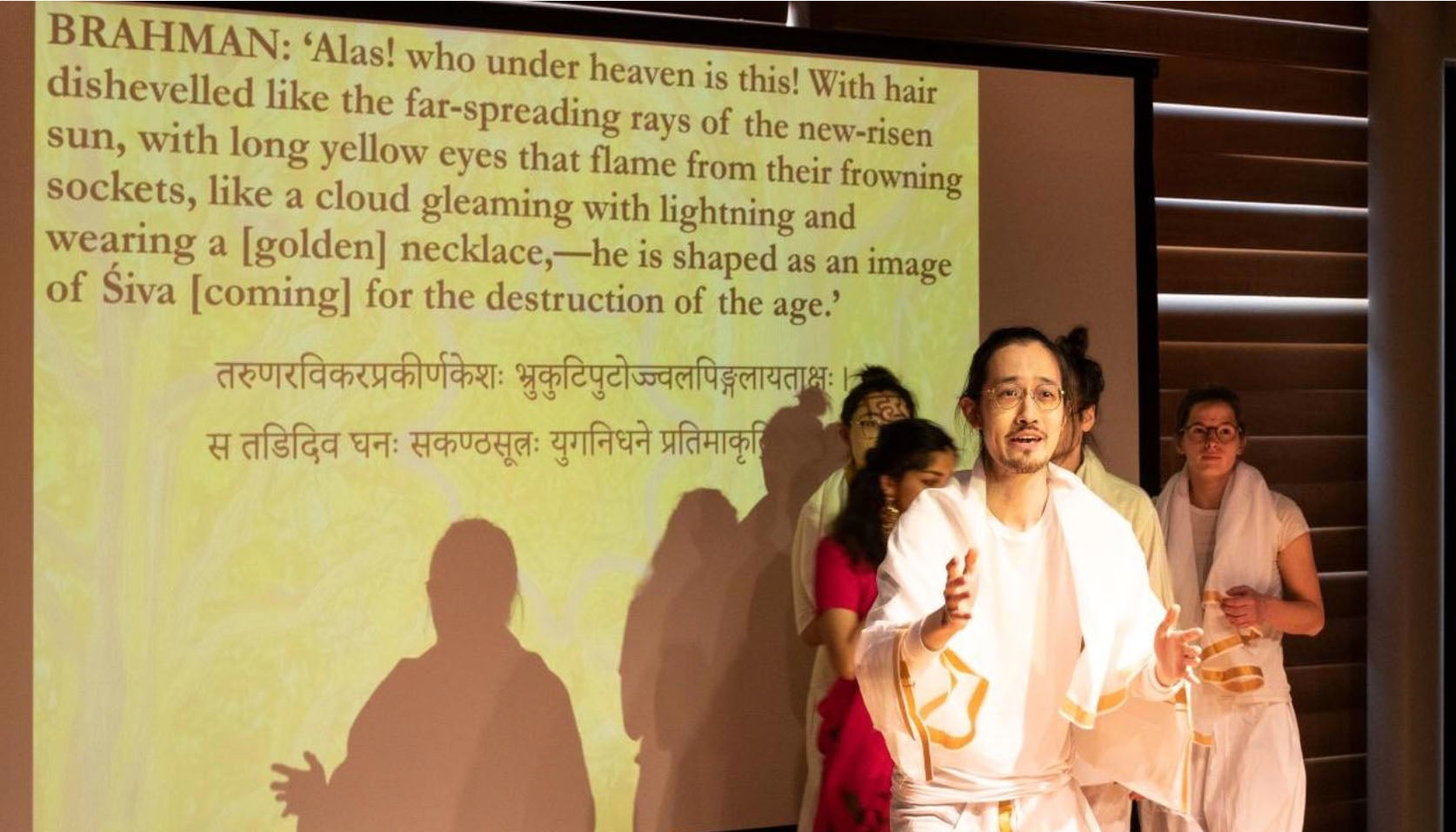 Upcoming events
Cultural Programme goes digital
Our programme of digital events will continue for as long as Coronavirus makes in-person performances impossible. You can watch the events so far, and mark your diary with the events still to come, here.
Connecting cultures through music
The Oxford Schools Intercultural Music Exchange aims to break down barriers between cultures by bringing together refugees and British students at a local school (Oxford Spires Academy) to co-create a new musical work. Their composition will be performed for the local community with accompaniment from a professional orchestra (the Orchestra of St John).
Opera for children
Vehicles is an opera composed specifically for children aged 8 to 10 years old and their families. We aim to reach young people in areas traditionally lacking in arts provision and rarely touched by academic research by putting on performances of Vehicles and carrying out a research project. Led by Professor Martyn Harry of Oxford's Faculty of Music, this project will explore whether opera can inspire creativity and innovative thinking in young people.
AI day
2021 will be the 65 year anniversary of the first use of the term 'Artificial Intelligence'. We will explore where AI has come from and what the future involves, with talks and special events involving researchers, students and practitioners in the technology and gaming industry. These events will be particularly aimed at young people and families.
You can find the full list of upcoming events here.